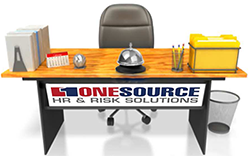 Our Help Desk Program is a comprehensive, all-in-one solution for your HR/risk management challenges. Membership includes:
Immediate access to an HR professional to answer basic HR and operational questions via our toll free hotline at [insert phone number], email at helpdesk@onesourcehrrisk.com or our fast, convenient online feature
Email alerts for HR and payroll news and changes to laws that may affect your business
Monthly HR newsletter
Invitations to quarterly HR workshops on topics important to business owners, operational leaders and HR professionals (in person and via webinars)
Referrals for more comprehensive HR consulting services:

Compensation analysis and design
Employee handbooks/policies/other legal documents
Hiring practices/recruiting strategies
HR audits/needs assessment
Job descriptions
On-site HR presence
Performance appraisals and overall performance management process
Performance improvement process
Succession planning/career pathing
Training in behavioral interviewing, diversity, leadership, performance management, sexual harassment

Want to know more? Contact us for the details.

Already a member?

Log in here.